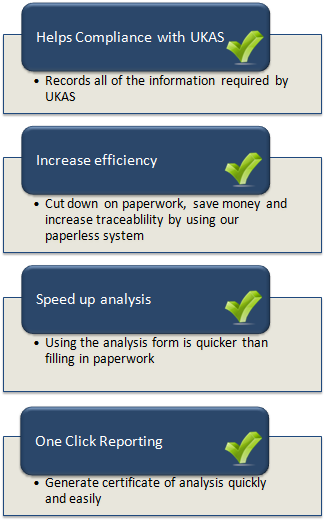 Our online system allows asbestos laboratories to manage all of the data and records required to comply with UKAS regulations.
Use of the system allows laboratories to benefit from a network of accredited labs to keep up to date with UKAS requirements, and to ensure that when UKAS visit your company, all of the information they require is at your fingertips.
AsbestosLab can be fully customised to suit the needs of individual labs, and can include contract management and surveying tools if required.
Other benefits include the ability to reduce paperwork and administration workload, speed up reporting of samples, keep track of sample numbers, process QC samples, monitor consumable usage (slides, RI liquids etc), log sample locations, and much more.
We can also offer bespoke laboratory and reporting solutions for laboratories in other areas such as microbiology or occupational hygiene.
If you would like more information on our system, or to arrange a trial, then please contact us.